Beers That Taste Like Fall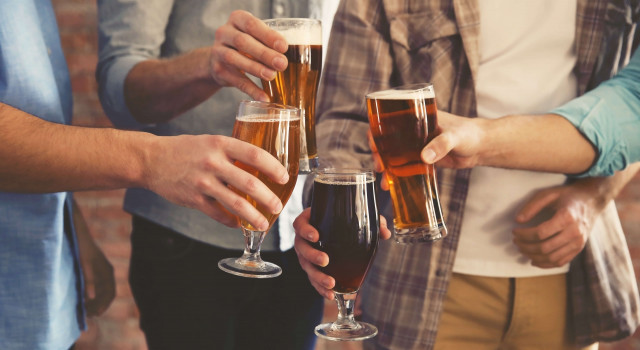 As fall begins, it's as if a flip is switched and the introduction of all types of pumpkin-style food and beverages hit the market. And while we won't shy away from a latte or those little Pumpkin Joe-Joes, we will continue to let the craft beer Atlanta community know there are more to fall beers than pumpkin beer.
Fall Beers
If the breadth of all fall beers could be boiled down to a few similar characteristics, it might skew a bit more toward a malty brew with a bit of caramel—two features that make fall drinking fun. From deep amber ales to beers that celebrate Oktoberfest, we'll cover a few of our fall favorites.  
Amber Ale
Nothing makes a fall dinner table more complete than the deep golden color of an amber ale. Amber ales make a great fall beer, because the combination of caramel and crystal malts gives the ale a slight toasted flavor, perfect to pair with roasted meats. For the craft beer lover, there are plenty of options for adding amber ales to your rotation. 
Fall Stouts
Malt-heavy and packed with plenty of American hops, American stouts offer a bold and aromatic drinking experience. While we wouldn't argue with enjoying this year-round, we know that stouts are made for the colder seasons. A hearty fall meal deserves a hearty beer. Think cheeses, soups, and game meats. 
Oktoberfest Beer
Lederhosen, the Chicken Dance and beer steins, Germany's largest celebration signals a rousing reminder that Oktoberfest – or German-Style Marzens – are out and ready for the tasting. This style of beer delivers malt-rich taste and an ever-so-comforting aroma of toasted biscuits. It's no wonder these beers pair nicely with smoked meat and those carb-heavy sides we love throughout the fall. 
Hard Cider
Yes. It's okay to talk ciders. Just like we will defend the use of autumn, we will defend the addition of cider to beer lists. If you are looking for something seasonal and a bit different than the usual malty-deliciousness of fall beers, we can't fault anyone looking for the crisp, refreshing taste that ciders deliver. And with flavor profiles that span caramel apple to citrus, ciders pair nicely with many of our fall food favorites.
Pumpkin Beer
We had to do it. We succumbed to the pumpkin. But you know what? There is nothing wrong with at least trying one before the season is over. We've seen it all: pumpkin stouts, pumpkin amber ales, and IPAs. We've seen them brewed with pure pumpkin, pumpkin spices, and even a winter squash or two. And because they can run the gamut, there's not necessarily an exact characteristic that defines them (Well, outside of the pumpkin part.). And because of their versatility, they pair with lots of different fall foods. Our favorite? Try a pumpkin beer float with coffee ice cream for dessert. Cheers!
Best Craft Beer in Atlanta
Stop by Tap on Ponce in Ponce City Market and let us get you ready for fall. In the meantime, you can check out our current stock online. 
Category: Beer