Elevate Your Thanksgiving with Beer & Wine Pairings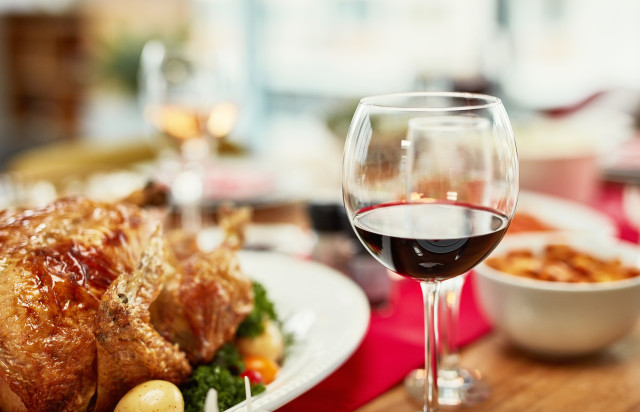 Fall is here! And so are the delectable flavors of Thanksgiving.
Whether you're hosting a big family meal, or just enjoying a small dinner by the fire, the right beer and wine pairings could really make this holiday one for the history books.
Elevate your Thanksgiving table with a few of the recommendations below.
Roast Turkey & Amber Ales
Pair the culinary centerpiece of your Thanksgiving table with an amber ale. The toasted caramel flavors of these beers make an exquisite pairing with succulent roasted turkey.
Plus, the subtle bitterness of the ale is the perfect foil to the turkey's unbelievably rich, melt-in-your-mouth goodness.
Prime Rib & Bold Reds
Bypassing turkey this year for something of the bovine persuasion? We're all for it. Just make sure that you have some intense reds to accompany your sumptuous prime rib.
Cabernet Sauvignon or Merlot should do the trick. They're incredibly robust, but still impart some fruity undertones—from black cherries to plums and beyond—which will only intensify the meat's smoky flavor.
Seafood & Crisp Whites
Gracing this year's Thanksgiving table with shrimp cocktail, grilled fish, or other delicacies of the sea? Then you're going to want to have some bright, invigorating white wines like Sauvignon Blanc or Chardonnay on hand. Their acidity pairs beautifully with all things oceanic.
Fruitcake & Port Wine
We know, we know. Fruitcake is basically the most reviled dessert in all of human history.
But hear us out. When it's done the right way—meaning, when it's paired with an after-dinner glass of sweet port wine—it's more than tolerable. It's utterly delightful. And there's no better way to close out a Thanksgiving meal.
The wine's intense sweetness emboldens the fruitcake's array of spices and dried fruits, resulting in a divine pairing that's a true testament to the holiday's indulgent spirit.
Ready to elevate every morsel and make some unforgettable memories? Then visit Tap on Ponce.
Our expert staff will help you discover the perfect beer and wine pairings to transform your holiday table.