History of the Growler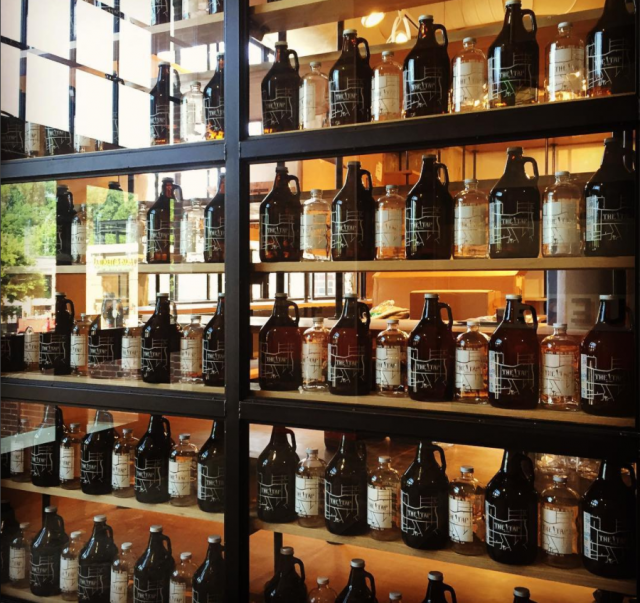 If you love craft beer, chances are you know about growlers. They're a great way to stash your favorite type of craft beer while keeping it fresh and preserving its quality. But what you may not know is the history behind these notable beer vessels.
Read on to explore the history of the growler, learn how it got its name, and discover why we like them so much.
What Even is a Growler?
A growler is a container that's used to transport draft beer without ruining the quality or spoiling its freshness. Growlers can come in all kinds of shapes, sizes, and materials, but they're usually made from either stainless steel, plastic, or glass.
If you live in Atlanta, there's no need to shop at any Atlanta growler stores, just stop by to The Tap on Ponce and find a variety of growlers that'll be perfect for all your favorite
craft beers we have on tap
! 
The Growler Good Old Days
During the later years of the 1800s, the only way to keep beer at home in the United States was to transport it from a local brewery or saloon in a steel bucket. This was often the responsibility of children who would bring the beer to their parent's work or home so they could enjoy a refreshing beer wherever they pleased. 
During the transportation process, the beer would swish around in this bucket, causing a rumbling/growling noise as the carbon dioxide was released. It's this grumbling sound that most people believe gave the growler its name.
Growlers were used by more and more people until the year 1920 when it was forced to take a pause due to prohibition — the United States ban on alcoholic beverages — but returned after it was lifted in 1933.
In the 1950s, beer began to be sold in containers made of waxed cardboard, and at the end of the 1960s, the same concept was switched to plastic — making the growler worthless and outdated.
Growlers Today
The modern use of growlers can be traced to 1989 in The Cowboy State — Wyoming. The founder of Grand Teton Brewing, Charlie Otto, was trying to dream up how he could package his beer to go without bottling it. It was at this point when Charlie's father suggested using growlers. It's said that Charlie wasn't even aware of what growlers were, but his father had used them as a child and recommended their effectiveness. 
The use of growlers eventually spread from the Teton Mountain Range to the entire country, where they're now used regularly by craft beer lovers, and available for sale or fill up at
The Tap on Ponce
. 
Fill Up Your Growler at the Tap
Today, you can stop by the Ponce City Market and fill up your own growler with
56 tasty taps to choose from
. Or, if you don't have a growler, you can buy your own right here at The Tap on Ponce, where we have some of the best growlers Atlanta has to offer in a variety of sizes.
See you at the tap!
Category: Beer