How your growler promotes sustainability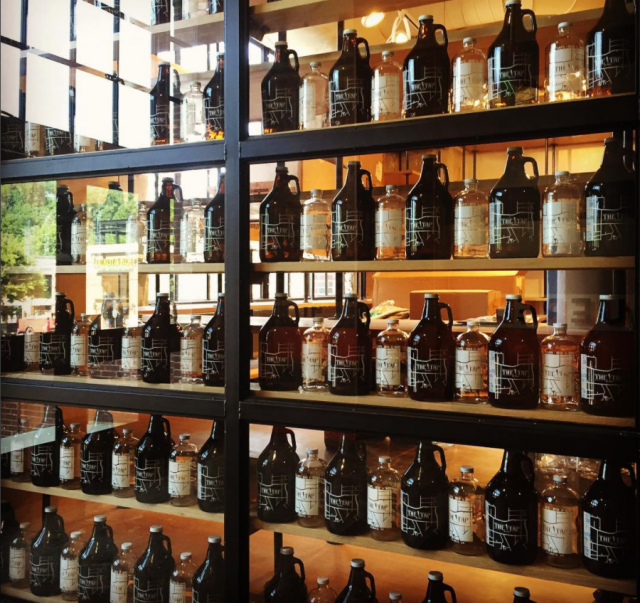 Ever wondered how you could reduce your environmental impact and still pack your fridge with the best craft beers around? At the Tap, we've got you covered. Our growlers and crowlers can be reused endlessly and never become waste in a landfill. Bottles and cans, on the other hand, are always thrown away or recycled. Growlers completely avoid this cycle and let you enjoy freshly-poured craft beer and wine in your own home! But there are other reasons to use them, too.
Craft breweries are sustainability pioneers
We're proud of our local brewers who, along with many craft breweries across the country, strive to be sustainable and eco-friendly. With smaller operations, they can't afford to let anything go to waste. From Kona Brewing, who uses the condensation from their AC to add to their water source to Atlanta favorite SweetWater and their annual Save Our Water campaign, these brewers set a good example by finding ways to cut back. One way they reduce is by not bottling their beer.
What's wrong with bottles and cans?
Over 100,000 aluminum cans are recycled every minute in America. And recycling is great! But, it doesn't solve the problem of trash altogether. Americans throw away around 250 million tons of trash every year, most of which ends up in landfills. Even materials that are 100% recyclable (like glass bottles) still take up energy and resources to become something new.
All this means that you won't find many of the incredible craft brews we serve in stores. That's a big up for the environment, but a bummer for those of us who want to kick back with a Scofflaw Hooligan or a Prairie Bomb in the comfort of our own homes. So, what do you do?
Enter the growler
Our growlers and crowlers are the perfect solutions. These reusable bottles, cans, and jugs let you take one our craft beers or wines home with you for later, letting you enjoy the beverage you want and be eco-friendly at the same time.
Not only is re-using always better than recycling, it's also a way to let breweries know that they don't have to bottle. And less bottling means less trash, which is good for all of us.
How do I get one?
Everything from 8oz. plastic containers and 32oz. crowlers to 64oz. growlers are available at The Tap on Ponce – ready and waiting to be filled from one of our 56 craft beer taps or our dozens of white and red wines. 
Category: Other