Oktoberfest all Month Long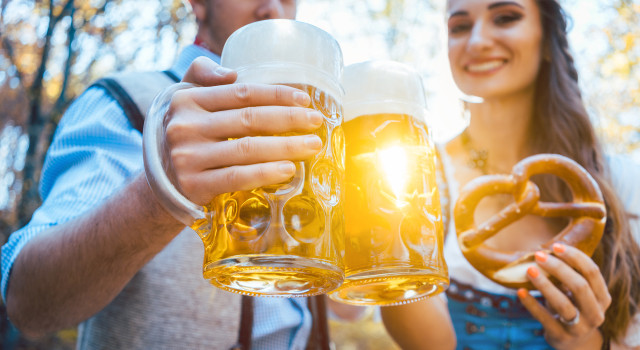 What is it?
Oktoberfest is a folk festival running from mid-September to the first weekend in October, or in our case, all month long. Oktoberfest is ultimately a celebration of good times and great friends. And it's never complete without lively music, games, mouthwatering food, and extremely large steins of beer.
A Brief History
Oktoberfest started in 1810 when Bavarian Crown Prince Ludwig married Princess Therese von Sachsen-Hildburghausen. All of the citizens of Munich were invited to the celebration. Since then, the festival has grown to include horse races, games, rides, music, and eventually beer. That's right, what is now the largest beer drinking festival in the world once did not include beer at all!
How to Celebrate
If you're not able to experience an authentic Oktoberfest celebration in Munich, Germany, then you'll want to know how to partake in this amazing fest state-side! We're here to help with our list of the top three things you can do that will make your Oktoberfest celebration the best it can possibly be.  
1. Come See Us at The Tap on Ponce!
Clearly, we want to celebrate this beer - saturated event with you! The Tap will offer some fantastic fall selections through the month of October that you will want to make a part of your Oktoberfest frenzy.
2. Wear Lederhosen & Drink Beer
Nothing will make you feel more German than strapping on some authentic Lederhosen attire. It doesn't matter if you're of German heritage, just embrace the festivities and go for it! Find one near you here.
3. Eat Delicious German Food
Typical Oktoberfest food would include roasted chicken, giant-sized pretzels, Bratwurst, pork knuckles, and lots of decorated gingerbread. Not pleasing to your palatte? The Ponce City Market food hall is bound to have something to your liking.
Category: Beer