Visiting Het Anker Brewery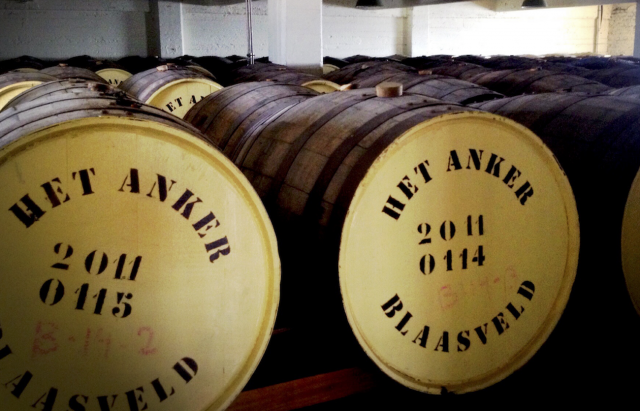 Het Anker anchors the edge of the historic district of Mechelen, a small beautiful town of 80,000 in the Flemish part of Belgium.  When you exit the brewery's back gate you'll find a maze of narrow cobblestone alleys leading to a central plaza dominated by the huge St. Rumbold's Cathedral.
The brewery grounds were originally a Catholic hospital in the 15th century which started brewing in 1473 for the pragmatic reason. Beer was actually safer than water at the time and also provided important nourishment. 
By the 19th century Het Anker had come to brew the golden lager style beers that had become dominate on the continent. In the 1960's 5th Generation owner Charles Leclef's grandfather saw a business danger in brewing just another of the homogeneous lager beers of the era and decided to shift production back to the original brown ales. He also wanted a higher alcohol beer.
This lead to Gouden Carolus, or Golden Coin, which harks back to the stronger beers with more ingredients that were historically brewed for royalty.  We know this beer today as Gouden Grand Cru of the Emperor and I highly recommend trying it!
Despite Het Anker concentrating on darker beers, competition from golden lagers and even stronger golden ales like Duvel took their toll on the brewery.  Charles Leclef took over the aging brewery and found himself with a tough decision-modernize the current grounds or move to a characterless industrial space. Happily he chose the former and with a careful consideration of its history is currently upgrading much of the brewery's equipment. The beautiful copper brewhouse stays of course, but less romantic yet crucial parts like filters are being upgraded. The grounds are open with a restaurant, hotel, and pub and even act as the convenient cut through to different parts of town. As for the beer, the focus today is on stronger beers under the Gouden line. The brewery makes 30000 hectoliters and exports to 40 countries though about half the beer stays in Belgium.
- Adam Tolsma, Beer Director
Category: Beer