The History of The Mimosa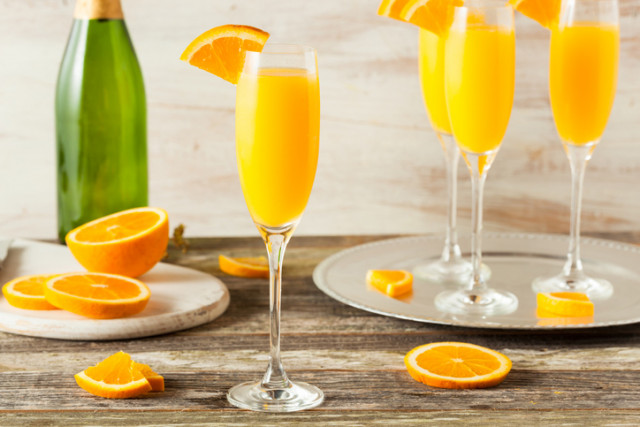 The mimosa. A light, fizzy, refreshing favorite with the power to liven up any family get-together, make your second cousin's baby shower tolerable, and give us all a reason to rise for an early morning brunch on any given Sunday.  
We've come to love this weekend tradition so much that we wanted to give credit where credit is due and learn who is responsible for our mimosa obsession.
Historic origins of the mimosa
The celebratory sip with its life-giving abilities is now considered essential for a weekend well-spent. So to whom do we the owe the thanks for our favorite brunch-time treat?  
The truth is, we aren't one hundred percent sure. The history of the classic cocktail is a much-disputed mystery, but let us tell you what we did find.
The inspiration
There is little doubt that the mimosa is a variation of the ever-loved Buck's Fizz cocktail, invented in 1921 at Buck's Club in London.
The lone difference between the two drinks is ratio. A traditional mimosa is served with equal parts sparkling wine and orange juice, whereas a typical Buck's Fizz has twice as much champagne as juice.
Despite a variation in quantities, both were created with the same goal in mind: to have an excuse to start drinking before lunchtime.
The perfector
Years after Buck's Fizz a bartender named Frank Meier at the Ritz Hotel in Paris created a slightly more diluted version of the cocktail.
His adaptation was made with equal measures of both ingredients, and although he never took credit for coining what we consider the modern-day mimosa, we can thank him for recording the recipe in his book The Artistry of Mixing Drinks.
The promoter
That leaves us with the least likely of all the potential inventors: Alfred Hitchcock, who tried to claim cocktail fame in the 1940s.
While we cannot confirm Hitchcock had anything to do with making mimosa magic, he did help to popularize the drink in the US, making it the staple brunch drink that it is today.
We may not be able to tell you who exactly to tip your hat to for the best part of brunch, but we are here to tell you that every Sunday at the Tap on Ponce we're offering Mimosa Kits for only $8, all day! In case you're not familiar, kits include:
One twelve-ounce can of sparkling wine
One twelve-ounce bottle of OJ
Cups for sharing
Yep, that's right. Our kits make 2-3 mimosas and are a perfect companion to brunch at Ponce City Market.
We'll see ya Sunday!
Category: Other