Hosting the Perfect Summer Get-Together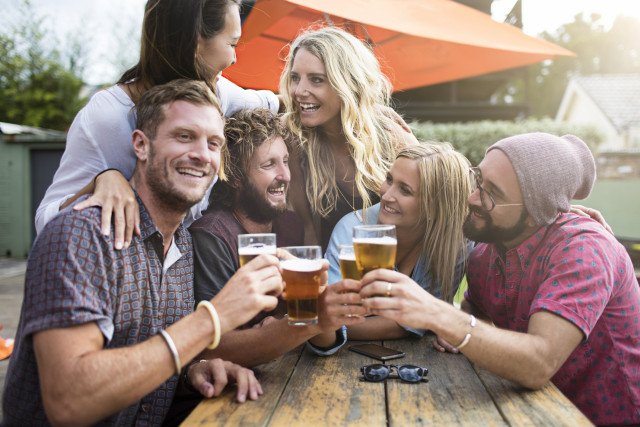 At Tap on Ponce, we live for summer get-togethers. Well, really we love any excuse to hang out with friends.
But there's something special about summer with its warm weather, long days, and carefree attitude. Here's everything you need to host an awesome event. 
Get the grill going
Is it even a summer party if you don't grill something? Just about any type of food tastes great on the grill. Plus, it's an easy way to cook (and clean up after) a lot of people.
Don't forget the portobello mushrooms, eggplant, and squash—they're all great grilling options for your vegetarian friends. 
Make sure there's shade
Summers in the South can be pretty brutal. You'll want to make sure your guests have plenty of places to get out of the sun. 
Entertain the kids 
Summer get-togethers are a lot of fun for adults, but they can be something kids dread if there's nothing there for them.
Remember, your friends' little ones aren't going to be satisfied sitting around and talking to adults. Try setting up a sprinkler in the backyard for them to run through, or put out some yard games. And make sure you have plenty of kid-friendly food (read: freezer pops). 
Light up the night 
Is there anything better than summer nights spent with great friends? If you're planning for your party to keep going after the sun goes down, don't forget to provide some lighting for your guests. Or go all out with a bonfire—bonus points for providing s'mores fixings. 
Stock up on summer beers
There's nothing more refreshing than a cold beer on a hot day. We have plenty of options to keep you and your guests cool and refreshed this summer. 
Gose
If a Gose reminds you of being at the beach, then that's because this tart wheat beer is brewed with salt (in addition to coriander seeds). It often draws on fruit flavors like lime, watermelon, or mango, which pair well with the beer's slightly sour taste. 
Session IPA
The Session IPA features a hoppy flavor with a lower alcohol content, so you can enjoy a more refreshing beverage without paying for it in the morning. 
Sours
Sour beers are known for their distinct sour flavor, a product of the Lactobacillus and Pediococcus bacteria that's used in the brewing process.
Don't be put off if you try one you don't like. Sour beers have a wide range of flavors and, well, sourness, to them. So while one might have been a bit too strong for you, there's probably a milder flavor out there that you'll enjoy. 
Lagers
Lagers usually have a light taste with very little bitterness and are best served very cold, making them especially refreshing in the summer heat.
Kölsch
This light-drinking, refreshing beer is originally from Germany and pairs great with sausage and sauerkraut. That sounds like a summer get-together duo to us!
Shandy 
When the weather's hot, you don't always want to drink a full beer. Shandy's are the perfect mix of beer and another type of drink, like lemonade, ginger ale, or fruit juice. 
Looking for something off the beaten path? Check out our Rare Beer Tuesday events and see if you can find something that will really wow your friends. 
Don't forget the warm weather wines 
When it comes to casual get-togethers, wines can definitely be an afterthought.
But these warm weather wines are just as comfortable at your backyard party as they are at an upscale restaurant, so go ahead and grab a few bottles. 
Rosé
Rosé gets a bad rap. Not quite a red wine, this pink drink is often thought of as ultra sweet thanks to White Zinfandel. But rosés have a wide range of flavor profiles and you can find plenty that are refreshing on a hot summer day. 
Pinot Grigio
This popular Italian white wine has a fresh, citrusy taste that goes well with just about any type of food. 
Riesling 
Another popular white, this wine is best known for its ultra-sweet flavor. But, much like our friend rosé, sweet is only one flavor profile you'll find in this style of wine. Rieslings can vary from sweet dessert wine to wine with a minerally taste.
Tell us what you're in the mood for, and we can help you find a wine to match. 
Sauvignon Blanc
This white wine (notice a trend here?) pairs great with fish and sushi—making it a good option if you're having a smaller, sit-down summer gathering. 
What are you waiting for? Summer won't last forever.