How to Pick the Perfect Halloween Beer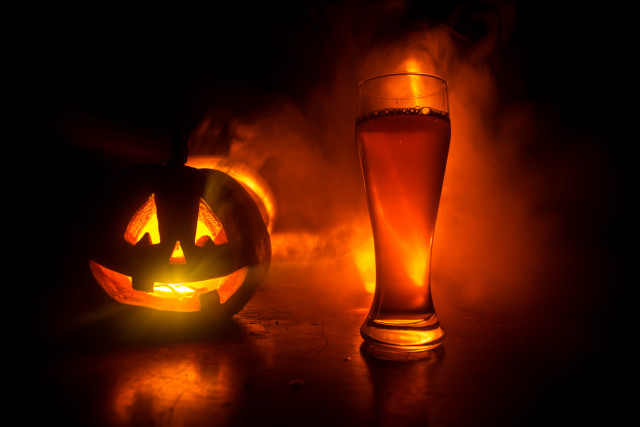 It's October and the perfect Halloween-inspired beer is a must. Here's how to choose one that fits the season. 
The Style 
Halloween has a certain feel to it. The nights are getting longer, the neighborhoods are fully of spooky decorations, and you're starting to break out the scary movies. That atmosphere just begs for a beer that's a little darker and richer than those fruity sours and refreshing radlers that you were drinking all summer. 
Oktoberfests
We know that Germany's Oktoberfest celebration technically end the first week in October. But here in the states, we love celebrating right up to Halloween. So, what is an Oktoberfest beer? You can find both the German-style Weiesn and the American-style Marzen being brewed in the states this time of year. The German-style is a golden color with a sweet maltiness and a medium body while the American style is more of a reddish-brown in color with a hoppier flavor than the traditional German style. 
Pumpkin beers
Sure, Europe is famous for the Oktoberfest style of beer, but we can lay claim to all the delicious pumpkin ales, porters, and stouts. Fun fact: Pumpkins are actually native to North America, which is part of the reason why we love to cook and brew with the gourd more than our European friends do. Pumpkin beers typically either fall into the "spice" category, which involves some pumpkin flavor but goes heavier on the cinnamon, allspice, clove and nutmeg, or the "pumpkin" category, which is much heavier on the pumpkin flavor. 
Cider
Apple definitely takes a back seat to pumpkin when it comes to favorite fall flavors, but it shouldn't be forgotten. If you're looking for something a little lighter and crisper than your typical Halloween beer, a nice cider might be exactly what you need. And if you're not a fan of apples, remember, ciders come in a variety of flavors like pear, pineapple, and even rosé.
The Exclusiveness 
If you love craft beer, you understand the thrill of chasing after the exclusive, limited production, seasonal beer. The fall is a great time to try some of those unicorn labels. Want to share the fun? Try hosting a Halloween beer tasting at your house. Each of your friends can bring a rare, Halloween-inspired beer and that way each you can try something special. 
The Name
Craft beer and fun names go hand-in-hand. And that means if you can't decide or your not sure, you can always choose your beer based on the how much you like the name. When it comes to beer for Halloween you can go with the obvious names that play off creatures of the night, like zombies, witches, or goblins. Or you can go with something a little more abstract and choose names with seasonal words in it, like harvest, moon, or dark. 
Beer Recommendations
Still need help deciding? Here are a few great choices that we've recently had on tap and what we have available now. 
Spaten Oktoberfest 
Southern Tier Pumkin 
Dogfish Head Punkin Ale
Cherry Street Friend of a Farmer Pumpkin Pie Porter
Left Hand Oktoberfest 
Bells Octoberfest 
Laughing Skull Amber Ale
If those don't spark your interest, feel free to come by and talk to us! We're always happy to recommend something just for you. 
Category: Beer