The Best Beer and Tailgate Food Pairings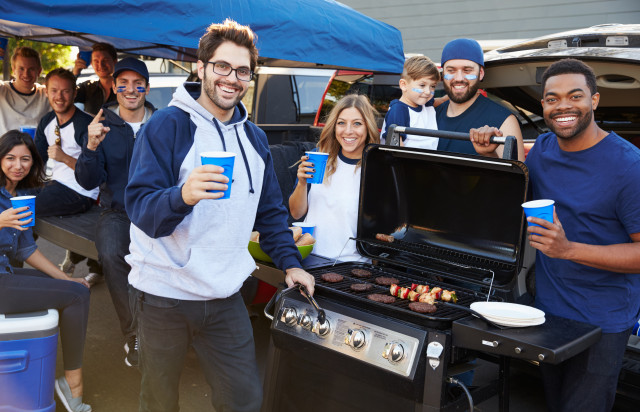 It's fall, y'all! Time for cozy sweaters, crunchy leaves, and tailgating. 
Here at the Tap, some of us are cheering on Georgia Tech and others are rooting for UGA, but we all take our tailgates pretty seriously. 
So, of course we're always thinking about what beer to pair with our favorite tailgate snacks. Here are a few of our favorites. 
Jalapeño poppers
Wrapped in bacon, fried, or baked—there's no wrong way to make a delicious jalapeño popper. The only question is what brew to serve with it. 
Any time you're making something spicy you can go with a nice lager to help cool the heat. Want to turn it up? A hoppy beer will make those jalapeño poppers a whole lot hotter.
Mama's Little Yella Pils by Oskar Blues is a great choice if you're trying to cut the heat. It's a super light pilsner that's big on flavor but low on ABV. If you're feeling extra spicy, try the Boss Tweed by Old Nation. This New England Double IPA has aromas of peach, mango, and tangerine. A perfect pairing with a spicy jalapeño. 
Wings
Wings are always a hit at the tailgate. You can eat them while standing up (and holding a beverage) and there's a flavor for every palate. Plus they're easy to make ahead of time or you can just pick some up to bring along if you're not into cooking. 
So, what should you drink with your wings? A good pilsner or lager is always the right choice. This refreshing beer will cut the heat and prove super drinkable while you're chowing down and cheering the Bulldogs on. 
Our recommendation? Try the Solid Gold by Founders. The 22-year-old brewery calls the Solid Gold their ultimate challenge. And they delivered with a light, celebrated, crisp beer that's done with a hint of craft. 
Guacamole
As far as tailgating food goes, guac can be one of the healthier snacks on the menu. Not to mention it's super easy to make and pretty much a universal crowd-pleaser. If you really want to be the talk of the tailgate, bring along a good wheat beer to serve with your guac. 
A wheat beer pairs well with the creaminess from the avocado and the saltiness from the chips that you're dipping. Our suggestion? Try the Firewater Universal O. It's a blood orange wheat ale that will add a little flavor to your dip. 
Burgers
There's just something about getting the grill going outside and cooking your food right there at the tailgate. Be honest, is there anything that goes better with beer than burgers?
So, start toasting those buns and pop open a brown ale to go with your burger. We recommend the Best Brown Ale by Bell's. This beer has notes of caramel and cocoa and that sweetness will balance the savory flavor from your beef. 
Chick-fil-A Chicken Minis
If there's a better way to start a tailgate than with a chicken mini, we'd love to hear about it. Just the thought of those warm, sweet and savory mini's has our mouth-watering. Bonus points for ordering a tray ahead of time and picking it up on the way to the game. 
And, if you're starting early, there's no better beer to pair with it than SweetWater 420. Because we are in Atlanta, after all. 
Salty Snacks, Sweet Endings, Or anything, really
When in doubt, go for a Gose. This light, slightly salty, slightly sour beer goes with everything, is super refreshing, and, with their low ABV, they're easy to drink all day. 
We love nerding out about different beer and food pairings. So grab your growler and your tailgate menu and head on down to The Tap for some recommendations. 
Category: Beer