The Best Beers for Thanksgiving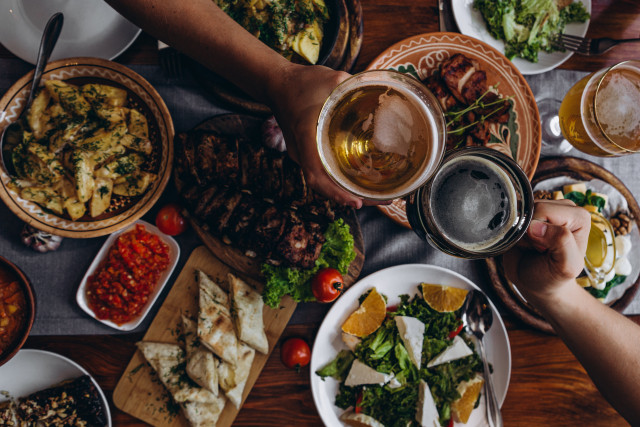 Thanksgiving is such a wonderful time of year. It's a time full of bounty, friendship, and the occasional shout at whatever football game is on the TV. 
If you're looking for the best beer to serve for the day, our only question is: What are you eating? 
Beers for the Side Dish Lover
Let's be serious. When it comes to Thanksgiving, we're really all just there for the sides. 
So, what should you be drinking?
Farmhouse ales have nice citrusy, spice, and ginger flavors that tend to go really well with salty snacks, salads, and cranberry sauce.
When you get into the heavier foods, like mashed potatoes and stuffing, go for a pale ale.
Beers to Drink with Turkey
We all love our sides, but is it really Thanksgiving if you don't take the obligatory serving of turkey? When it's turkey time, it's time to break out the saisons. These beers have an intensity of flavors that pair well with traditional Thanksgiving turkey. The key is you don't want to overwhelm your palate so much that you can't taste the turkey. 
Beers During the Game
That turkey is working its magic and you're feeling a little sleepy. You don't want to fall asleep during the game and you really don't want to fill up before dessert, so something light and low in alcohol is your best bet to sip on while you're watching the game. We suggest a light lager, a gose, or a session IPA. 
Beers with Dessert
The main course is over, football's on TV, and now it's time for dessert! There's a sweet treat for everyone and a beer to go with every dessert. 
Pies
After sides, pie is probably the best part of Thanksgiving. Here's what you should be pouring. 
Fruit Pies
Reaching for the cherry, apple, and blueberry pies? Grab a gose or brown ale to complement those sweet fruit flavors.
Pumpkin, Pecan, Sweet Potato
Are savory pies more your speed? Pour yourself a milk stout or doppelbock to help balance the earthy, rich flavors or these pies and you won't be disappointed! 
Liquid Dessert
Who says you can't have a beer for dessert? There's a whole line of sweet(ish) dessert beers that are great served by themselves for dessert. 
Chocolate porter 
Coconut porter
Cookie-inspired flavors
Barleywine (this one's strong, so make sure you just sip it!)
Protip: If you want your dessert to be beer forward, but you still want a little of the sweet stuff, try adding a scoop of vanilla ice cream and making it a beer float. You'll thank us later. 
Beers for a Friendsgiving
Friendsgiving is a chance to pick and choose the holiday traditions we actually like. Not interested in serving gelatinous cylindrical cranberry sauce, then don't. Think turkey tastes dry and flavorless? Pardon that bird and go with ham instead--or a steak, or a nice portabella burger, the world is your oyster! Mmmm, oysters actually sound pretty good, huh?
Our point is, Friendsgiving is the chance to get a little funky with your beer too. Plus it's a great excuse to host a beer tasting with your friends.
Go ahead, break all the rules. 
We're always happy to offer suggestions in person, so come on in and talk to our expert staff. 
See what's on tap
Is wine more your thing? Don't worry, we have a guide for that too. 
Category: Beer